The Ear Cropping Problem: why we must tie up the loopholes that allow this barbaric practice to continue
Dogs Trust see a number of dogs coming into their care who've undergone painful, ear cropping, which is illegal in the UK. They support the joint campaign, led by the FOAL Group and BVA, to lobby the Government to close legal loopholes that allow the trend of ear cropped dogs to continue in the UK.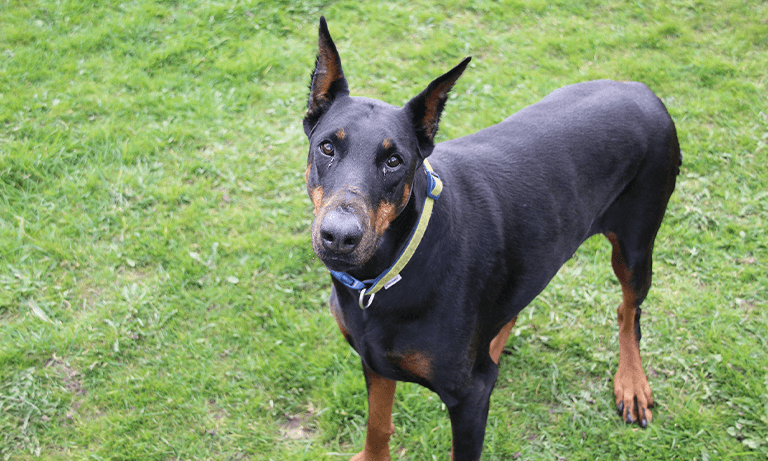 Owners seeking 'the look'
During the pandemic, demand for dogs has skyrocketed and at the same time we've seen a boom in demand for breeds of dog historically associated with cropped ears, such as Dobermanns and Cane Corsos. We're concerned that images of these types of dogs circulating in the media may lead people to think that it is 'normal' for certain breeds to look like this and to aspire to getting such a dog.
Shockingly, we have also heard about 'DIY' ear cropping kits being sold online for owners to crop their own dogs' ears. As a vet, dog lover and owner, it is distressing to imagine the trauma this causes. Cropping can also inhibit a dog's ability to use their ears to communicate, which could impact on their relationships with other dogs and people, including issues of safety. It's vital that the dog loving public are aware that this is not what these dogs should look like, and that they understand how abhorrent this practice is, so that they do not fuel this cruelty.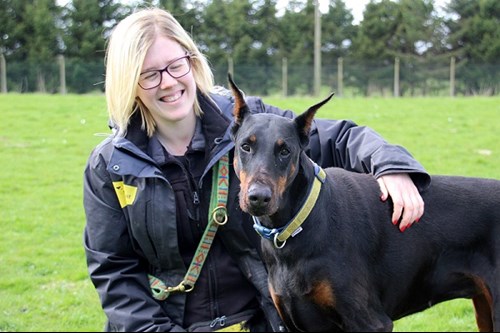 Ebony, the nine-year-old Dobermann came into Dogs Trust Leeds in March 2021 with four other dogs, when their owner passed away. She is waiting to be rehomed.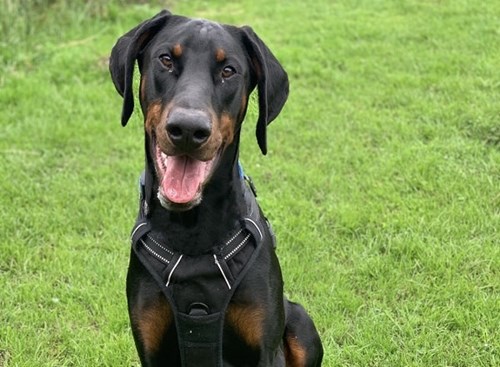 Dougie, a Dobermann with normal ears who was rehomed through Dogs Trust last year.
Importation of dogs with cropped ears
It's illegal to crop dog's ears in the UK and Europe, however it's not illegal to import dogs and puppies with cropped ears from abroad- a loophole that's increasingly allowing criminals to exploit the law and cash in, with little care for dog welfare.
Dogs Trust support APHA in in their work to stop the illegal importation of dogs and puppies into the UK. Some of the dogs that we see that have been illegally imported have also had their tails docked and ears cropped abroad. Last year, APHA seized 178% more dogs with docked tails and cropped ears compared to 2019. We fear this could be just the tip of the iceberg and that many more could be slipping through the net.
We have concerns that the same dogs that are being illegally imported into the country underage to be sold on to British buyers are also being imported with cropped ears to meet demand in the UK.
We support BVA and the FOAL Group's campaign to lobby the Government to close the legal loopholes that allow the importation of dogs with cropped ears to continue. The end goal is to close legal loopholes such as this so that we stop the trend in ear cropped dogs in the UK for good.
Standards set by the Pet Advertising Advisory Group (PAAG)  ban classified websites from hosting adverts for dogs with cropped ears cannot on their sites. The platforms which have signed up to PAAG minimum standards work hard to remove such advertisements and warn sellers of the legal implications This is a step in the right direction, but more must be done as the trade is being driven further underground as sellers adapt their practices.
What the Government can do
Here at Dogs Trust we are continuing to put pressure on the Government to increase the maximum sentence for animal cruelty offences in England and Wales to five years. In these two nations, the sentences available to the courts are too pitiful to deter offenders from carrying out this barbaric practice. Currently, penalties for anyone found to have cropped a dog's ears include a maximum prison sentence of up to six months. This needs to change.
It's high time the Government set to work to close these loopholes, introduce tougher penalties and stop allowing the unnecessary suffering of dogs to continue through their inaction. 
What the public can do
We urge the public to remain vigilant when buying dogs and report any concerns about dogs with cropped ears to the RSPCA (England and Wales), SSPCA (Scotland), or the Local Council Animal Welfare Officer (Northern Ireland). If you have concerns about a breeder selling cropped eared dogs, report them to Trading Standards.
It's great that the petition has now gone over 100,000 signatures already, as this means the Government will consider debating the issue in parliament.
Contact our media office
(for press enquiries only)
Want to join BVA?
Get tailored news in your inbox and online, plus access to our journals, resources and support services, join the BVA.
Join Us Today