Thinking with our heads and our hearts - why we're supporting #BreedtoBreathe
Veterinary surgeon Christabel Moseley on why her practice feels it is important to raise awareness about the health and welfare issues faced by brachycephalic dogs – and why it will never take away from vets doing their best by current patients.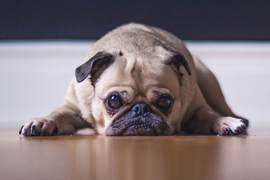 As a vet, I have to admit that seeing brachycephalic breeds like Pugs and French Bulldogs is one of my guilty pleasures. They not only look cute, but they also have huge personalities and adorable temperaments. I saw the most gorgeous French Bulldog puppy in practice just last week and instantly fell in love with him.
I think most of my colleagues would agree that there is something very endearing and personable about these breeds, especially when they are puppies. Unfortunately, the cost of this cuteness can be severely compromised health and welfare for the dogs later in life.
Cost of cuteness
Take for instance the cases I see in practice on a regular basis- the Pug who is unable to walk very far without getting out of breath and panting uncontrollably before collapsing and refusing to go any further; the French Bulldog who snorts and makes horrendous upper respiratory noises all the time which are considered 'normal' for the breed; the British Bulldog who 'faints' on walks and turns blue because he can't get enough oxygen to where it is needed; the Cavalier King Charles who stops every few steps to scratch uncontrollably because she has syringomyelia and the pressure around her brain makes it painful every time she takes a breath; or the Boxer who gets repeated ulcers in his eyes because the conformation of his face means that his eyes protrude quite considerably, leaving them vulnerable to damage.
Nothing will stop us from doing our best by our patients
As a vet, my duty of care extends to all animals in my care – but it is heart-breaking to see many of these gorgeous dogs with their massive personalities struggling to cope with life on a daily basis, because humans have selectively bred them to have features that can compromise their health and welfare. That is why the veterinary profession is being proactive in trying to change things for these dogs.
I would like to make it clear this in no way reflects how my colleagues or I feel about the brachycephalic dogs we have as patients - nothing will stop us doing our best by these dogs and giving them the treatment and love they require and deserve. All vets take an oath to constantly endeavour to ensure the health and welfare of animals committed to their care. Apart from being advocates for individual patients we see in practice, this duty of care extends towards the welfare of all animals at a societal level.
We feel that we owe it to the animals - both current and future generations - as well as their owners, to join the campaign to raise awareness about the issues and health problems that they face. We also wish to encourage people to think very carefully and understand the risks before purchasing these breeds – even as we try and minimise the impact of the problems in those dogs currently under our care.
What can owners do?
One of the most important pieces of advice for owners of flat-faced dogs would be to never let them become overweight; their body condition score (BCS) should never exceed 5/9. If you need an explanation of the body condition score, or would like to discuss your dog's weight and suitable diet, please consult your local vet.
For members of the public who may be considering getting a flat-faced breed, I'd recommend reaching out to your local vet for pre-purchase advice to ensure you are fully aware of the breeds' potential health problems. As with the purchase of any new puppy, we would also encourage use of the Puppy Contract, which is a handy guide to getting a puppy from a responsible breeder.
Vets have the best interests of animals at heart, and that is why many of us are supporting the #BreedtoBreathe campaign.
More information
Contact our media office
(for press enquiries only)
Want to join BVA?
Get tailored news in your inbox and online, plus access to our journals, resources and support services, join the BVA.
Join Us Today