What should you consider when buying a puppy?
Deciding to buy a puppy is a huge decision and the process of finding the right puppy for you can be complicated. However, it is important to take your time and consider everything involved in owning a dog.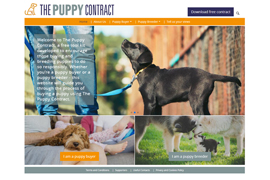 These include the long-term veterinary and insurance costs, your home and lifestyle, where to buy your puppy from, and the relevant health testing for the breed you are looking at.
The recently-launched, new-look Puppy Contract website offers a step-by-step guide to support you through this process, helping you make an informed decision. It is a fantastic resource for prospective owners, providing you with all the key questions you should be asking any breeder before you consider taking a puppy home.
One of the key areas covered by The Puppy Contract, which owners may not already be aware of, is pre-breeding health tests. Health testing is very important when buying a pedigree or crossbreed dog, as many breeds are prone to debilitating inherited diseases.
By health testing potential parent dogs before mating takes place, breeders can ensure that healthy dogs are bred from and therefore reduce the risk of passing on these conditions to the puppies. Healthy parents make healthy puppies.
Responsible health testing offers several key benefits for both you and your puppy:
Your puppy is far less likely to suffer from painful and debilitating inherited diseases as they grow older.
Your puppy is less likely to suffer from pain or poor eyesight related behaviour problems due to symptoms caused by inherited diseases.
Purchasing a puppy from health screened parents can help you avoid expensive and unnecessary veterinary bills in the future.
The Canine Health Schemes, run by BVA and the Kennel Club, offers health testing for a wide range of inherited conditions including hip dysplasia, elbow dysplasia and hereditary eye disease.
Hip and elbow dysplasia are common inherited conditions where abnormalities occur in the hip and elbow joints. The two conditions can be cripplingly painful and have serious effects on your dog's health and welfare. Hereditary eye disease can also have serious effects on health and welfare; many eye conditions can cause pain or blindness, require surgery and on-going veterinary treatment. These serious health conditions can also have an emotional strain on the dog's owners and cause many years of heartache.
To ensure you are buying a happy and healthy puppy always ask to see the relevant health test results for both parents. The Puppy Contract, developed by the Animal Welfare Foundation and the RSPCA, will document all this information for you.
Contact our media office
(for press enquiries only)
Want to join BVA?
Get tailored news in your inbox and online, plus access to our journals, resources and support services, join the BVA.
Join Us Today