World Organisation for Animal Health: where the Harry Steele-Bodger travel award took me
In 2022, Rosa Loedel was thrilled to win the BVA Harry Steele-Bodger memorial travel scholarship, which led her to begin an internship at the World Organisation for Animal Health in Paris. In this blog she shares her fascinating experiences.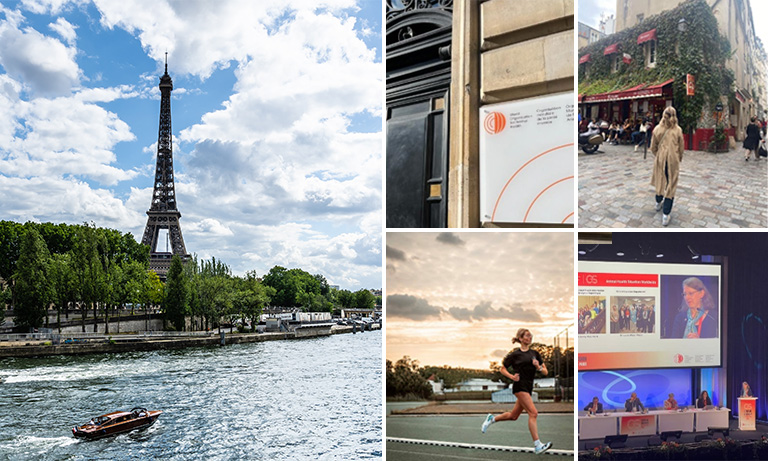 During my time at the World Organisation for Animal Health (WOAH), I was lucky enough to work in the Science Department, specifically in the Rabies team, and contribute to research coordination around animal, human, and global health. In the Science Department, my main role was to help develop and implement strategies to combat rabies worldwide. This work formed part of the 'Zero By 30 The Global Strategic Plan to End Human Deaths from Dog-Mediated Rabies By 2030'.
Why there's still work to be done
Rabies is still a major public health concern worldwide, particularly in developing countries with limited access to healthcare and preventive measures. According to the World Health Organization (WHO), rabies causes tens of thousands of deaths annually, the majority occurring in Asia and Africa.
Many nations have launched widespread vaccination campaigns for domestic animals, such as dogs and cats, in high-risk areas. Awareness programs are also in place to educate communities about the importance of responsible pet ownership and the risks associated with rabies.
Internationally, organisations like WOAH and WHO are working together to develop guidelines and strategies for rabies prevention and control. They provide technical assistance and support to countries in implementing vaccination programs, improving surveillance systems, and strengthening laboratory capacities for diagnosis. They also emphasise the importance of collaboration between animal and human health sectors, promoting a One Health approach.
New ways to fight
In recent years, there has been a push to increase access to post-exposure prophylaxis (PEP), which is a life-saving treatment for individuals who have been bitten or exposed to a potentially rabid animal. Efforts are being made to improve the availability and affordability of PEP in high-risk areas, ensuring that those in need can receive this treatment.
While progress has been made in reducing the burden of rabies, there is still plenty of work to be done. Continued efforts in vaccination, surveillance, education, and access to treatment are essential to further combat this deadly disease and ultimately eliminate it as a public health threat globally.
Collaborating for a common cause
I got involved in research coordination, working closely with experts from various disciplines to ensure collaboration and synergy between animal, human, and global health initiatives. Research coordination at WOAH plays a crucial role in advancing global animal health knowledge and addressing new challenges. The organisation serves as a platform for experts from various fields to collaborate and coordinate research efforts to improve animal health and welfare. This coordination ensures scientific advancements are translated into policies and practices that benefit animal populations worldwide.
The opportunity to work at WOAH exposed me to the critical role of international organisations in addressing global health issues and instilled in me a desire to contribute to the improvement of global health outcomes. Moreover, I must mention my love for the international environment at WOAH. Interacting with professionals from different cultural backgrounds provided me with a broader perspective and deepened my understanding of global health challenges.
The chance to live abroad
On a personal note, my time in Paris has been enriching. I have been learning French, which allowed me to connect with the local community on a deeper level and truly immerse myself in French culture. I joined a running team, and have run in various races throughout the city, including the superb Paris Marathon. I also have gotten involved in local charity initiatives with Serve the City Paris, particularly with the homeless community, where I've been happy to volunteer my time and skills.
I'm delighted to share that I have recently been offered a job in the organisation, and I am thrilled to continue my journey in Paris. I have started work as an Animal Health Information Officer in the World Animal Health Information and Analysis Department.
How this award broadened my horizons
I'm thrilled to be pursuing this avenue of veterinary medicine, particularly in the realm of global and public health. It has been an eye-opening experience that has ignited my passion for making a difference on a larger scale. I encourage anyone with a passion for veterinary medicine to explore different aspects of the field and not feel tied down to one area. It's important to stay open-minded, seek new opportunities, and embrace the diverse challenges and experiences that come your way.
Along this journey, I've learned to appreciate the process and the people I have encountered. They have played an integral role in shaping my perspective and fuelling my enthusiasm. Veterinary medicine offers a world of possibilities, and I believe that by following our passions, we can contribute to the betterment of animal and human health in unique and impactful ways.
I would like to take this opportunity to express my thanks to BVA for their support. BVA's commitment to fostering the professional development of aspiring veterinarians is truly commendable, and I am so grateful for the opportunities and resources provided. This internship has not only enriched my knowledge and skills but has also reinforced my passion for veterinary medicine and global health. Thank you once again for your support.
Contact our media office
(for press enquiries only)
Want to join BVA?
Get tailored news in your inbox and online, plus access to our journals, resources and support services, join the BVA.
Join Us Today