Enter the 2018 Veterinary Photographer of the Year competition
Following the success of the past years' competitions, we have launched the third Veterinary Photographer of the Year Competition, and are inviting members to submit entries in the run up to World Photography Day on 19 August.
Last year's competition culminated in an exhibition of the commended photos in the 'Through the eyes of vets' exhibition, held in the Houses of Parliament.
The competition, which is open to all BVA members, seeks to showcase images that highlight the human:animal bond and that offer tangible insights into the veterinary profession and its work. Submissions should promote responsible animal ownership and/or interaction, as well positive animal health and welfare. Photos can be submitted under one of two new categories for 2018:
The winners will receive a £250 John Lewis gift voucher each, and get the chance to have their photographs displayed at BVA Members' Day in September 2018, as well as at other BVA events throughout 2018/19 and in BVA communications.
This year, BVA is also delighted to announce that there will be an additional 'Members' Choice' award, opening for votes from 27 August to 10 September.
2017 winners
The competition has received more than 1,000 entries from all over the world, with Mandy Knight and Jen Rowland's images titled "Happy Gastrotomy" and "Rare and native North Ronaldsay and Dartmoor sheep grazing under the milky way" winning their respective categories in 2017.
Happy Gastronomy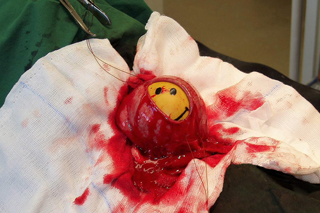 Mandy Knight, an Australian-born small animal vet, won in the 2017 'You and your work' category with her photograph 'Happy Gastrotomy', which captures a smiley squeeze-toy being removed from the stomach of a Labrador.
Of her winning photo, Mandy said: "I am so thrilled to be able to share this photo. It was actually about 10 years or so ago that I encountered this dog. We knew from radiographs that he had eaten a ball, but it was a lovely surprise to make the incision into the stomach and have this happy little chap beam out at us! We have such a cool job as vets, and this just nails it."
Rare and native North Ronaldsay and Dartmoor sheep grazing under the milky way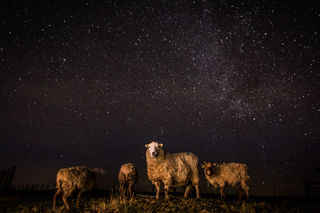 Mixed-practice vet Jen Rowland captured the judges' attention with her image of rare and native North Ronaldsay and Dartmoor sheep grazing under the Milky Way in Northumberland in 2017 'The wonderful world of animals' category.
Jen, a recent graduate who works in Aberdeenshire, Scotland, said: "I am completely shocked and delighted to have won this competition and it has definitely inspired me to get out with my camera more often. I was very lucky to get this shot as it was a single thirty second exposure - I had some very cooperative models!"
See our winning images from 2017 to help you find inspiration, as well as all last year's entries on BVA's Flickr.
Get involved
Submit your photographs today to be with your chance of winning.
The 2018 photo competition is open for submissions and closes midnight 19 August.
Contact our media office
(for press enquiries only)
Want to join BVA?
Get tailored news in your inbox and online, plus access to our journals, resources and support services, join the BVA.
Join Us Today