LGBT History month: Gary Rutland Q&A
To celebrate LGBT History Month, throughout February we are featuring Q&As with some key role models. Gary Rutland, Business Support Manager, shares his experience of the veterinary profession and discusses the importance of a trusted support network.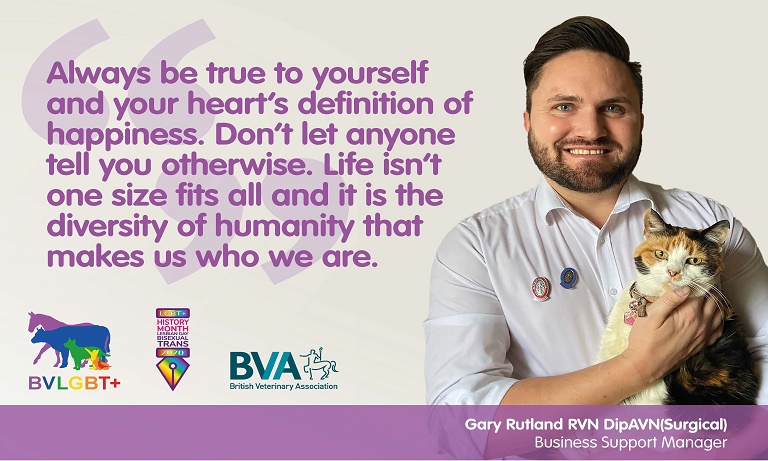 Can you tell us what started/inspired your path into the veterinary profession?
Ever since I was young, I was surrounded by animals and I knew that I wanted to work with them (or be a chef - which has worked out quite well in my career by making cakes as bribery for the team). My sister was also a veterinary nurse, she inspired me and taught me what vet nurses do. After completing 2 weeks' work experience when I was 14, I was hooked and knew I wanted to be the best veterinary nurse I could be, and represent male veterinary nurses. When I started, it was predominantly a white female profession with very few role models to follow outside of this stereotype.
Twenty-five years later I have had a diverse career, working up in practice to head nurse for 13 years in a multi-discipline first opinion and referral practice, to a career in the pharmaceutical industry, and now as a Business Support Manager for the VetPartners corporate group.
What has been the most challenging part of your career?
The most challenging part of my career has always been building up an emotional resilience to the pressures of the veterinary nurse role; always a shoulder to cry on for the clients and team. One of the reasons why being able to diversify in my career has been so important to me. Now I am able to support others through my experiences.
What has been the best part of your career so far?
There have been many highlights in my career but by far the best part so far was spending 5 days in Romania working on a street dog (and a few cats) neutering project with one of my close vet friends. It was the first time I was able to use my RVN skills and to give something back. The work was challenging, and a it was very different environment. Although it was only a drop in the ocean to the street dog problem, we were able to make a real difference to the cats and dogs in our care and the local community.
What are your proudest achievements of your career?
Besides my academic achievements, being the 4th male RVN at the time to achieve the DipAVN (Surgical) qualification whilst working in general practice, throughout my career I have always seen the best in people and try to help them fulfil their full potential. So, helping a struggling VN student achieve their dreams of the green uniform and badge will always be my greatest achievement.
What advice would you offer to someone experiencing difficulty with their sexuality or gender identity?
Always be true to yourself and your heart's definition of happiness. Don't let anyone tell you otherwise. Life isn't one size fits all and it is the diversity of humanity that makes us who we are. A positive trusted support network, whether family, friends, or like-minded people is really important, so surround yourself with people that help you and inspire you to grow and talk - you are never alone.
If there is one piece of advice you would give to your younger self what would that be and why?
It's a tough world, but always be kind and have the courage to try new things and step outside your comfort zone.
This is part of a series of posts in celebration of LGBT History month. Keep an eye on the BVA blog for our other posts throughout February.
Contact our media office
(for press enquiries only)
Want to join BVA?
Get tailored news in your inbox and online, plus access to our journals, resources and support services, join the BVA.
Join Us Today