Mary Brancker: A life of many firsts
A look back at the life of pioneering vet and BVA's first woman President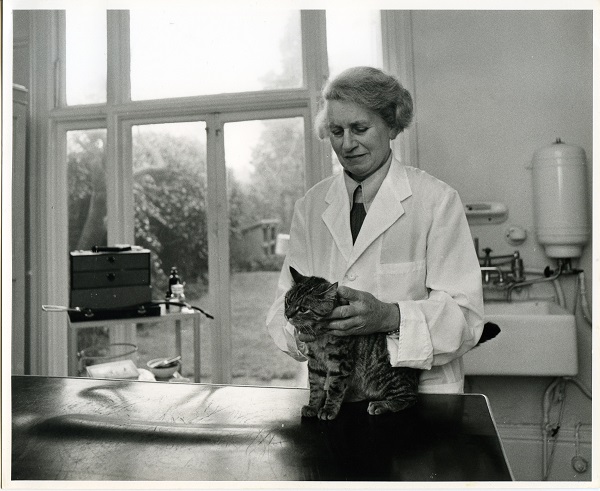 Winifred 'Mary' Brancker CBE (1914-2010) is a stalwart in the annals of veterinary history in the UK. Apart from being BVA's first woman President, she also holds the distinction of co-founding the now disbanded Society of Women Veterinary Surgeons, establishing the concept of veterinary care in fish farming, and supporting the foundation of Twycross Zoo, among other achievements. Just a few months before she passed away aged 95, she also realised another lifelong dream - learning how to fly.
Early life
Mary was born in London in 1914, five years before the Sex Disqualification (Removal) Act of 1919 allowed women to enter the veterinary profession. She grew up with a love for all animals (except spiders!) and had many pets growing up, including rabbits, dogs and collar doves. Despite being dyslexic, she managed to excel in studies at school, especially in her favourite subject, maths.
In 1932, when Mary joined the Royal Veterinary College in London, she was one of only a handful of women students in her year, all of whom 'practically without exception', she recounts, had to fight to get to the college. After graduating, she joined Harry Steele-Bodger's veterinary practice in Lichfield, before establishing her own practice in Sutton Coldfield. In one interview to the British Library, Mary remembers how, when she made a farm visit on her own for the first time, the farmer was shocked to see that the vet was a woman – so much so that he invited a number of 'sceptical onlookers' to watch her treat a cow.
Pioneering career
In 1941, Mary co-founded the Society of Women Veterinary Surgeons to champion the voice of women vets, especially during the war years. Twenty-six years later, in 1967, she became the first woman president of BVA in its then 85-year history and went on to be recognised with an Order of the British Empire for her work in martialling the veterinary profession during a serious foot-and-mouth disease outbreak.
Later in her life, thanks to a keen interest in fish, invertebrate and zoo medicine, she would also play an instrumental role in the setting up of Fish Veterinary Society, the British Veterinary Zoological Association, and the Veterinary Invertebrate Society. In 2000, the Queen appointed her a Commander of the British Empire "for services to Animal Health and Welfare to Women in the Veterinary Profession".
Veterinary historian Bruce Vivash Jones captured her strength of spirit and zest for life in this anecdote in a recent blog: "I asked her to speak at a meeting and knowing she was aged 95, offered help with transport. She refused it, arrived on time, spoke well and left to catch her train home alone. Quite exceptional."
Capturing a slice of veterinary history
"If you're going to have anything to do with the running of your profession, you have got to know something of the history."
Following a recommendation from then BVA President Nicky Paull, Mary agreed to record her life-story interview with Sue Bradley, an oral historian at Newcastle University's Centre for Rural Economy and Oral History Unit. The fascinating 25-hour interview began in August 2009 and was still ongoing when Mary died the following July.
The result is a valuable record of a remarkable life and of an important chapter in the profession's history. It also makes a significant contribution to the social history of Britain. The full, unedited audio interview can be heard at the British Library, and a summary is accessible by typing <Mary Brancker> into the Library's Sound and Moving Image catalogue:
Here, we present a few brief edited extracts. Our thanks to Sue for producing them, and to the Centre for Rural Economy for permission to use them here. Copyright in the interview is held by the Centre for Rural Economy and the British Library.    
You can apply for a Reader's Pass to access the full interview at the British Library.
"A career that was useful to the world." Mary recalls how she chose a veterinary career at the suggestion of Griselda Hervey, her forward-thinking headmistress at Belstead House School.
"News of a woman student was likely to get into the papers." Mary recalls her interview at the RVC in 1931, with the then principal, Major (later Sir) Frederick Hobday.
"Mrs So and so down the road would warn her son, 'Don't go about with that woman.' Mary explains the social prejudice that women vets faced in the first half of the 20th century.
"So we could speak on behalf of the women." Mary recalls how she and Joan Joshua set up the Society of Women Veterinary Surgeons in response to government plans for women vets at the start of the Second World War.
"Were you sent?" Mary recalls her first farm visit as a qualified vet.
Contact our media office
(for press enquiries only)
Want to join BVA?
Get tailored news in your inbox and online, plus access to our journals, resources and support services, join the BVA.
Join Us Today